Direct sourcing programs don't have to be an all-or-nothing approach when looking to bring talent into your workforce. They do, however, require employers to take five big decisions into consideration in order to launch an effective one. These decisions include: Sourcing format, Engagement management, Rate card format, Onboarding requirements and Governance/KPI's.
Contingent talent may go by many different titles: Gig workers, Freelancers, Independent Contractors, temporary talent or Contingent Workers, yet regardless of naming conventions, this type of talent works to provide organizations with flexible, skilled staffing solutions to help employers quickly respond to the many market changes and demands.
A popular sourcing strategy for many organizations is launching a Direct Sourcing program in combination with, or instead of, engaging third party staffing vendors for the acquisition of skilled talent and contingent workers.
If your organization is considering including Direct Sourcing as part of your recruitment strategy, it's important to first understand what, exactly, Direct Sourcing is and if it's the right talent sourcing strategy for you.
What is Direct Sourcing Recruitment?
What's direct sourcing? Direct sourcing occurs when an organization identifies talent for a position using their own resources, choosing to perform recruiting and onboarding functions internally. During the talent acquisition process, Direct Sourcing is a recruitment strategy that ensures direct communication with talent, allowing recruiters to build relationships with top talent and grow their talent pool over time.
An effective Direct Sourcing strategy will help organizations achieve many benefits like saving on costs during the talent acquisition process; however, the opposite can also be true if employers don't have the proper resources in place or a formal program to manage the process.
Is your organization prepared for Direct Sourcing?
Depending on your organization's needs and current hiring structures, it's important to recognize that Direct Sourcing isn't always the best option in every situation. First, it's critical to assess whether your organization is prepared for a Direct Sourcing program. Here's how you can identify whether you're ready:
• Your organization already has forecasting and workforce planning in place.
• You're planning to recruit large numbers of contingent workers with similar skill sets.
• You require cost-effective supplier efficiency.
• You're looking to control and capitalize on your employer brand.
• You suspect you're spending too much on recruitment costs and require visibility into where dollars are being spent.
Once your organization has taken the time to complete the necessary work planning, you may have decided Direct Sourcing isn't the best strategy for this time. However, insights gleaned from your work can still help improve your current program, so it's important to reconnect with your MSP to review their objectives and metrics of success and how they align with your organization's current and future work goals.
Designing Your Own Direct Sourcing Program
When sourcing talent directly into your contingent workforce, the best Direct Sourcing strategies will typically include a program that will compliment other recruiting practices rather than replace them altogether. And programs can vary greatly based on the unique needs of an organization and available internal and external resources.
When considering a Direct Sourcing strategy, the graphic below provides an overview of the five big decisions employers must consider when designing their own Direct Sourcing program.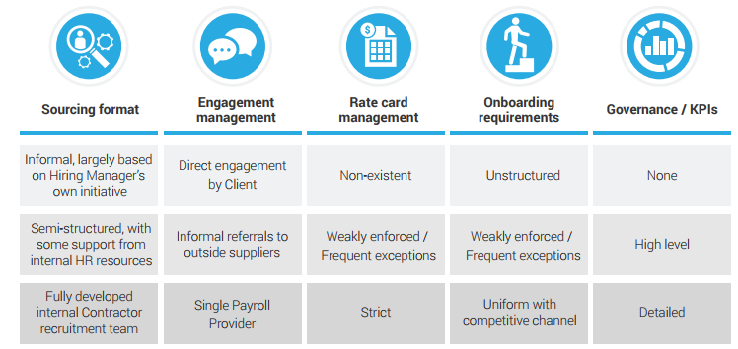 Direct Sourcing and your employer brand
It's no surprise that technology has made Direct Sourcing candidates easier than ever. Social networking makes reconnecting with former talent (alumni) simple: job openings for contingent workers can be posted for free on an organization's Intranet, their public-facing website, or more widely through online job and social media websites.
As with any online presence, organizations must consider their employer brand. Employer and company branding is just as important for talent as it is for traditional employee recruitment efforts and each must be complementary as well as truthful.
Maintaining a strong employer brand
One of the first steps talent will take when considering an organization for a future work is to perform online research about the client. Websites such as Glassdoor indirectly keep organizations honest by allowing past and present workers across all levels to rate their experience with the organization. Having and maintaining a strong workplace brand can be very advantageous for organizations recruiting in highly competitive industries and can be the differentiator for talent contemplating multiple offers of work from potential client.
The importance of a trusted third party service provider
For all models, using a third-party service provider to manage the paperwork for your Directly Sourced contract workforce will help mitigate risk and make your job easier. A good provider:
• Will manage contract administration work.
• Be knowledgeable in the latest payroll, benefits and employee/contractor status regulations.
• Can recommend process improvements to save time and costs,
• Ensure compliance and meet submission deadlines to government agencies.
Chances are you already know that one of the best sources for recruiting new talent comes from current and former employees whose own personal and professional networks expand your organization's reach well beyond traditional recruiting sources.
Employees, contingent workers, previous candidates and alumni who already have a positive work experience with your organization are more likely to recommend highly-qualified candidates since the referral has a direct impact on their reputation at the company. A side benefit of this is that internal referrals tend to start out with a higher level of trust than unknown candidates which can make the interview process faster and easier.
Are you interested in gaining deeper insights into Direct Sourcing?
Watch Procom's Direct Sourcing webinar and listen in as our experts discuss:
– What is Direct Sourcing?
– Why organizations are using Direct Sourcing to acquire contingent talent. – What you need to consider when planning and launching a Direct Sourcing program.
Watch the webinar: An introduction into Direct Sourcing:
{{cta('9075a152-6c42-4947-b793-a95ccd9023e1′,'justifycenter')}}