They go by many different titles: contingent workers, gig employees, freelancers, contractors, but regardless of naming, they all serve the same purpose: providing organizations with flexible, skilled staffing solutions to help them quickly respond to market changes and demands.

Historically, it was very common for organizations to source their contingent labor through a staffing or recruiting company. For a flat fee or a percentage of each workers' pay, the recruiter would vet resumes, qualify workers, negotiate pay rates, and manage all payroll and compliance for that worker. In return, the client received timely access to skilled consultants and workers and was glad to outsource the process to their trusted suppliers. Now, the landscape has changed, and so too must sourcing strategies. 
Direct Sourcing as a popular sourcing strategy

In an effort to save money, better manage talent, and regain control over their recruits, companies have become increasingly more comfortable taking on some or all of the contingent worker engagement process for simple or frequent openings within their organizations. The practice of engaging contingent workers directly is known as direct sourcing and while it is true that direct sourcing can save companies money, the opposite can also be true if the company doesn't have the proper resources in place or a formal program to manage the process. This post will address some of the challenges with direct sourcing, as well as five key decisions companies need to make when establishing their own direct sourcing program.

It's important to note, direct sourcing programs don't have to be an all-or-nothing approach. In fact, many companies use direct sourcing for routine or frequently engaged contingent worker requirements and still use an outside staffing agency to manage complex roles, executive positions and other senior company positions.

Whichever route you choose, below are some considerations to help enhance your program:
Making Direct Sourcing Work for You
According to the World Economic Forum there is a world-wide shortage of skilled workers, which makes the process of sourcing and recruiting talent that much harder for companies, particularly ones with global operations. Having a program in place that gives you immediate access to a pool of skilled, proven workers has many obvious benefits, not the least of which is a reduction in ongoing recruiting fees and shorter down-times.
It's no surprise that technology has made Direct Sourcing easier than ever
Social networking makes reconnecting with your former contingent workers (alumni) simple: job openings for contingent workers can be posted for free on a company's Intranet, their public-facing website, or more widely through online job and social media websites.

As with any online presence, companies must consider the brand image they're putting forward. Employer and company branding is just as important for contingent workers as it is for traditional employee recruitment efforts and the two need to be complementary as well as truthful.
The importance of maintaining your online brand
One of the first steps everyone takes when considering an organization for a future contract/engagement is to perform online research about the client. Websites such as Glassdoor indirectly keep companies honest by allowing past and present workers across all levels to rate their experience with the organization. Companies with frequent turnover or a low rating are viewed less favorably, for obvious reasons. Having and maintaining a strong workplace brand can be very advantageous for companies recruiting in highly competitive industries and can be the differentiator for a contingent worker contemplating multiple offers from potential client suitors.
Tapping into previous talent
Chances are you already know that one of the best sources for recruiting new talent comes from existing and former employees whose own personal and professional networks expand your company's reach well beyond traditional recruiting sources. Employees, contingent workers, and alumni who already have a positive work experience with your company are more likely to recommend highly-qualified candidates since the referral has a direct impact on their reputation at the company. A side benefit of this is that internal referrals tend to start out with a higher level of trust than unknown candidates which can make the interview process faster and easier.
Designing Your Own Direct Sourcing Program
The best direct sourcing programs usually complement other recruiting practices rather than replace them altogether. And programs can vary greatly based on the individual company's needs and available internal and external resources.

Below is an overview of the five big decisions companies must make when designing their own direct sourcing program, from the informal to the fully-developed: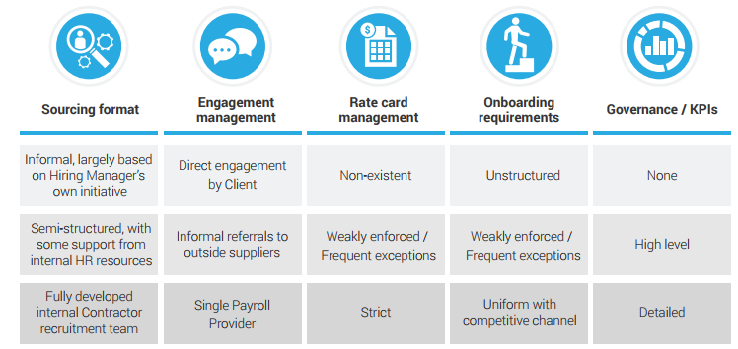 Informal programs are usually managed by a hiring manager who sources contingent workers directly and often at a higher rate card than necessary. This can happen when the hiring manager has a particular candidate in mind and is more interested in quickly getting a resource in place, rather than opening the direct sourcing process to competition and potentially lowering the rate of pay for the selected contingent worker.

Most often though, a direct sourcing program model will involve some kind of internal recruitment team and an applicant tracking system (ATS) of some sort to manage candidates and an approved rate card. It's important that whatever model you choose there is some structure to it and discussion around the five big decisions. Otherwise your direct sourcing program may end up costing you more time and money than if you had continued to outsource to an external staffing vendor.

For all models, using a third-party service provider to manage the paperwork for your directly sourced contract workforce will help mitigate risk and make your job easier. A good provider:

• Will manage contract administration.

• Be knowledgeable in the latest payroll, benefits and employee/contractor status regulations.

• Can recommend process improvements,

• Ensure compliance and meet submission deadlines to government agencies.


Are you interested in gaining deeper insights into Direct Sourcing? 
Watch Procom's Direct Sourcing webinar and listen in as our experts discuss:
– What is Direct Sourcing?
– Why organizations are using Direct Sourcing to acquire contingent talent. – What you need to consider when planning and launching a Direct Sourcing program.
Watch the webinar: An introduction into Direct Sourcing